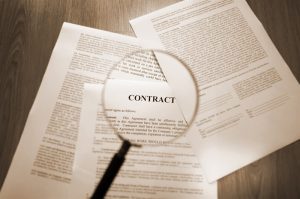 Challenging market conditions caused by continued low inventory has many buyers frustrated & looking to gain a leg up on the competition. When you're facing a multiple-offer situation, it can be tempting to write several, simultaneous offers on homes to try to increase your chances of one getting accepted. After all, if you miss out on the one you really want, your second-choice property may already be under contract by the time you find out if your first offer has been accepted or not. Going back to the drawing board to find another option or two can be disheartening & frustrating.
While this may seem like a smart strategy, it's NOT! Don't do it! That is, unless you're actually able to simultaneously close on ALL the properties you're writing on.
Why? It all comes down to disclosure & fair dealing. In the Exclusive Right-to-Listing Contract, or the Buyer Agency Agreement, the Colorado Real Estate Commission has specifically defined the following under Brokerage Duties:
Paragraph 5.7.  Broker must disclose to any prospective seller all adverse material facts actually known by Broker, including but not limited to adverse material facts concerning Buyer's financial ability to perform the terms of the transaction and whether Buyer intends to occupy the Property as a principal residence.
For example, if you were to simultaneously write three offers on three separate properties & they happened to ALL be accepted, as a Broker I would have been legally obligated to disclose when the offers were first submitted whether or not you could actually perform on all three contracts & close on all three properties at once.
Further, the Colorado Contract to Buy & Sell Real Estate (purchase contract) includes the following provisions:
Paragraph 4.4.3.  Available Funds. Buyer represents that Buyer, as of the date of this Contract,  Does  or Does Not  have funds that are immediately verifiable and available in an amount not less than the amount stated as Cash at Closing in § 4.1. [Check boxes available for selecting whether or not you do or do not have the funds.]
That means your Realtor is legally required to disclose your financial ability to perform on the Contract right from the get-go. If you can't buy three homes at once, then that would need to be disclosed at offer time. In addition, there's also this clause in the Contract to Buy & Sell Real Estate:
Paragraph 28.  GOOD FAITH. Buyer and Seller acknowledge that each party has an obligation to act in good faith including, but not limited to, exercising the rights and obligations set forth in the provisions of Financing Conditions and Obligations; Title Insurance, Record Title and Off-Record Title; New ILC, New Survey; and Property Disclosure, Inspection, Indemnity, Insurability Due Diligence and Source of Water.
I like to call this the "Golden Rule Clause." Both Buyer & Seller are agreeing to act fairly, ethically & in "Good Faith" throughout the transaction. Should you have multiple offers accepted at once, it wouldn't be legal to terminate the Contract due failing to be honest & up front about your purchase position & financial situation. That means terminating on an unrelated deadline, which shouldn't be done as its misrepresenting yourself & the essentially the home itself. What seller wants to go under contract with a buyer who has ill intentions right out of the gate? Going back on the market could also negatively impact the sales price for the Seller.
At best, this is a clear ethics violation for your Realtor. At worst, it's intentionally deceptive, illegal & the Seller could justifiably have a Good Faith claim against you for mediation. If you lose, you'll also likely be on the hook for the Sellers' attorney fees as well as your own. Any reputable broker simply won't take on the ethical or legal risks.
So how do you come out on top of an offer pile if you can't hedge your bets with multiple, simultaneous offers? Simple: You work with a Realtor who has a proven track record of getting their Buyers' offer accepted in multiple-offer situations. My Buyer clients are the winning bid a whopping 75-80% of the time. Hire an experienced, seasoned agent like me to discover my trade secrets to deploying the best offer around.
You'll be happy when you Just Choose Jackie for a Breath of Fresh Air in your real estate transaction!