Is it a Buyer's Market? Seller's Market? How long are homes taking to sell?
Like most of the country, the Denver metro area is coming off of record-high appreciation & has recently experienced some market whiplash. Rising interest rates have led to a dramatic drop in market activity & require creative techniques for both Buyers & Sellers to continue conquering the market.
We're shifting more toward a more balanced market, with increased interest rates clashing with longer days on market & continued low inventory which is keeping prices somewhat elevated. Sellers not only need to look at their pricing to entice buyers, but need to offer more interest rate buy down incentives & should expect to negotiate more on an offer and on an inspection. Buyers no longer need to write over-the-top, panicked offers & can take their time finding just the right home. However, the right home at the right price will still sell quickly!
It's an increasingly sticky situation, with Sellers loathing to relinquish their low interest rates resulting in still-tight inventory. Buyers are put off by higher payments due to high interest rates, so they pool has also been drained.
Does your Realtor have the experience & the know-how to best leverage this market knowledge to your advantage, whether you're a Buyer OR a Seller? Can you compete in a still-tough market? If not, then you need some Fresh Air in your Real Estate Transaction!
Don't just take our word for it — check out the market statistics from the Denver Metro Association of Realtors (DMAR) & the RE Colorado MLS for yourself! 
______________________________________________________________________________
______________________________________________________________________________
___________________________________________________________
______________________________________________________________________________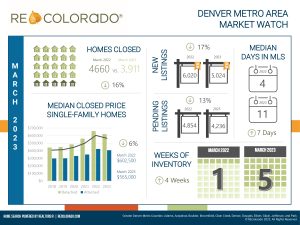 ____________________________________________________________________________
______________________________________________________________________________
_____________________________________________________________________________


---

---

---